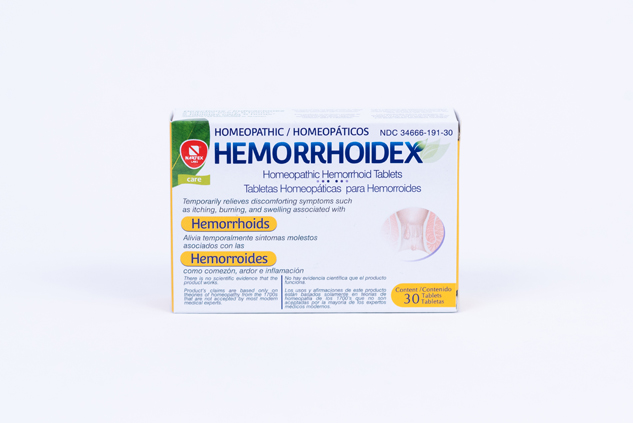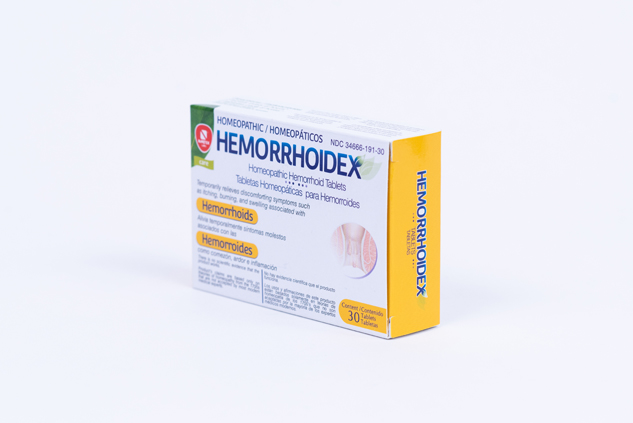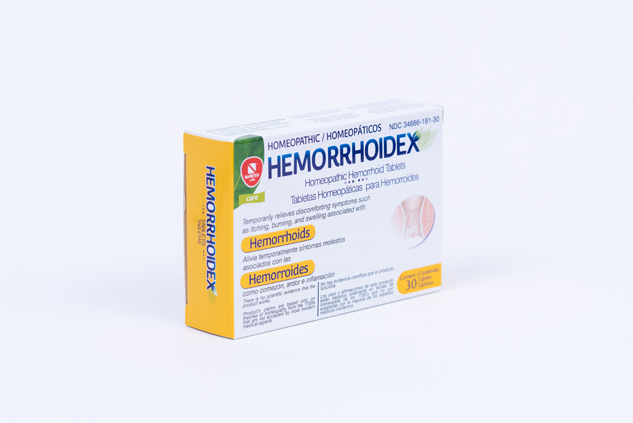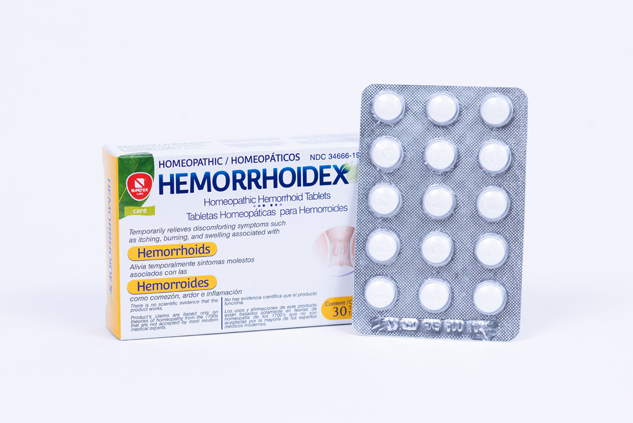 Hemorrhoidex® Tablets
30 Tablets
Helps with the treatment of certain cases of hemorrhoids.
Attributes
Temporarily relieves symptoms such as itching, burning, and swelling associated with hemorrhoids
Suggested use
Oral. Dissolve slowly in the mouth.
Active Ingredients
Aesculus hippocastanum, Collinsonia, Hamamelis.
Recommended use
Adults and Children over 12 years: take 2 tablets every 6 hours.
Children under 12 years of age: Please consult your physician.
Store in a cool, dry place.
DO NOT USE: If you have an allergy or sensitivity to ingredients found in this formula. Ask a doctor if you are under care for any serious condition and if you are taking other drugs.  Do not exceed the recommended dosage unless directed by your doctor.  STOP and talk to your doctor if bleeding occurs, symptoms persist, worsen or continue after 7 days or if a rash develops.  If pregnant or nursing, talk to your health professional.  Keep out of reach of children.  In case of overdose or allergic reaction, seek medical help or contact your local Poison Control Center right away.  Do not use if seal is broken or missing.
Tell me more!
Aesculus hippocastanum, is a natural active ingredient which helps relieve pain, swelled tissues, aching and burning related to hemorrhoids.
Collinsonia Another natural active ingredient helps with swelled tissues as well as itching and burning.
Hamamelis, also known as Witch-Hazel, has been recognized by its astringent, anti-inflamatory and coagulation properties1,2
Villar del Fresno, AM. (2001). Hammamelis virginiana. Phytochemistry, pharmacology and therapeutics (Fitoquímica, farmacología y terapéutica). ''Professional Pharmacy Magazine'' Orig; Revista Farmacia Profesional. Vol. 15. No. 6. 86-91
European Medicines Agency Committee On Herbal Medicinal Products. (2009). Assessment report on Hamamelis virginiana L., cortex, Hamamelis virginiana L. folium, Hamamelis virginiana L., folium et cortex aut ramunculus destillatum.
Associated to
These statements have not been evaluated by the food and drug administration. This product is not intended to diagnose, treat, cure or prevent any disease.
Medical practices, regulations and available product portfolios might differ from one country to another.
As a result, the medical information provided in the site which you are going to visit may not be appropriate for product use in your country.