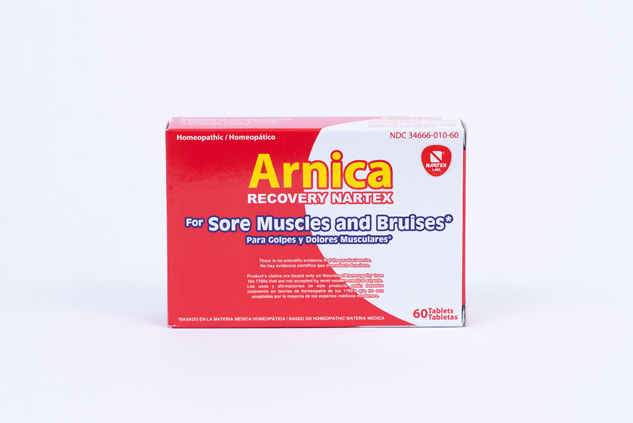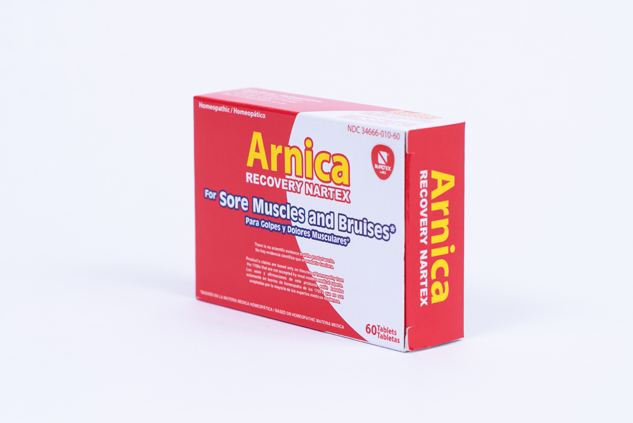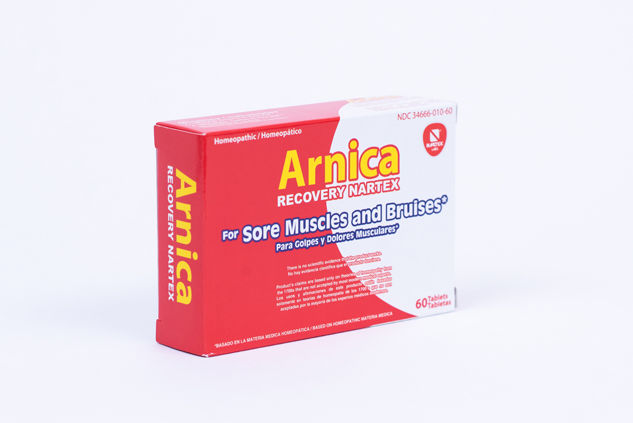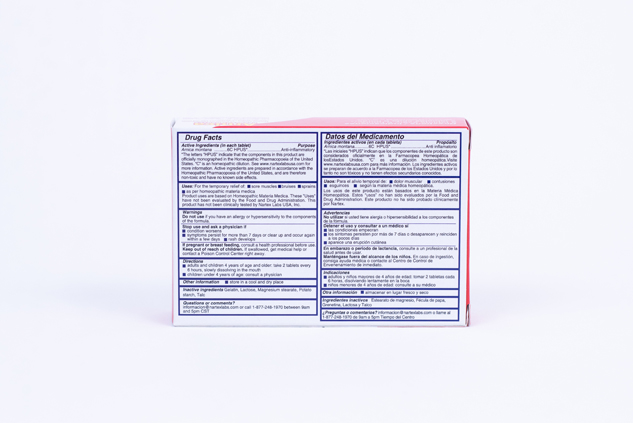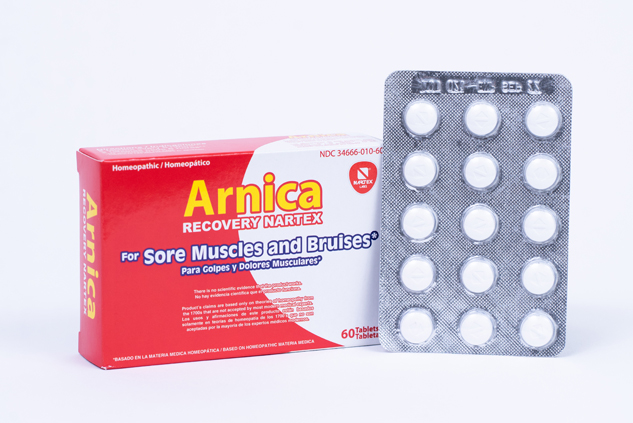 Arnica Recovery Nartex® Tablets
60 Tablets
For sore muscles and bruises
Attributes
Temporarily relieves sore muscles
Reduces bruising
Helps with sprains
Suggested use
Oral. Dissolve slowly in the mouth.
Active Ingredients
Ingredients: Arnica Montana.
Recommended use
Adults and Children Ages 4+: Dissolve (2) tablets by mouth every 6 hours.  Do not consume more than 8 tablets per 24 hour period.
Children Under 4:  Please consult your physician.
Tell me more!
Arnica Montana has long been heralded for its ability to produce relief from pain, inflammation and bruising1,2. The aromatic fragrant- yellow flowering plant first began to be used medicinally in the 16th century. Arnica's medicinal properties are found within the flower, and these are processed for over-the-counter use for their anti-inflammatory and analgesic effects1.
Homeopathic practices, which seek to treat ailments using small – though effective – doses, serves as a good delivery method for the array of uses provided by Arnica Montana.
Brito, N., Knipschild, P., & Doreste-Alonso, J. (2014). Systematic review on the efficacy of topical arnica montana for the treatment of pain, swelling and bruises. Journal of Musculoskeletal Pain, 22(2), 216–223. https://doi.org/10.3109/10582452.2014.883012
Kriplani, P., Guarve, K., & Baghael, U. S. (2017). Arnica montana L. – a plant of healing: review. Journal of Pharmacy and Pharmacology, 69(8), 925–945. https://doi.org/10.1111/jphp.12724
Associated to
These statements have not been evaluated by the food and drug administration. This product is not intended to diagnose, treat, cure or prevent any disease.
Medical practices, regulations and available product portfolios might differ from one country to another.
As a result, the medical information provided in the site which you are going to visit may not be appropriate for product use in your country.