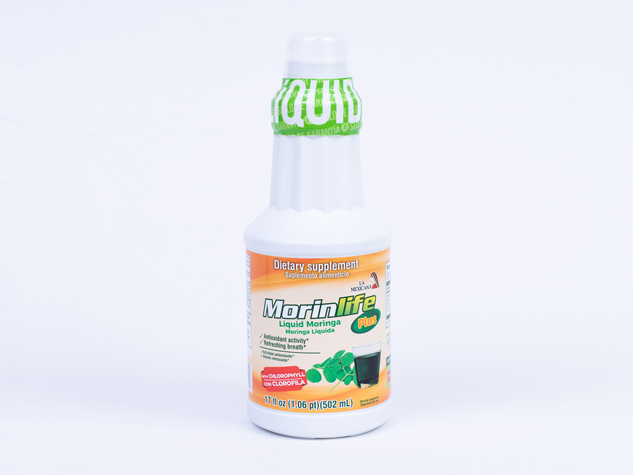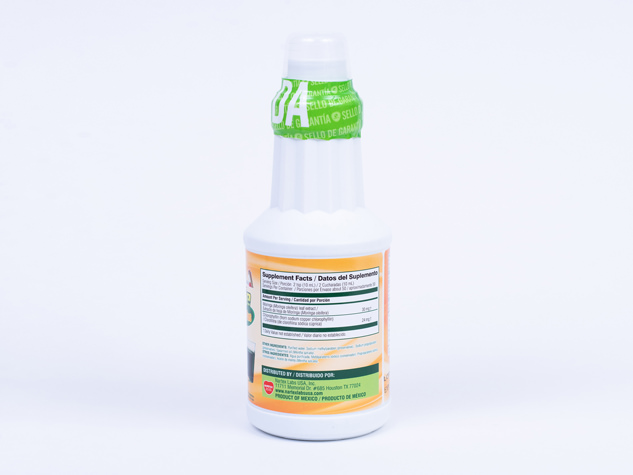 Morinlife
Concentrate 17 fl oz
Attributes
Antioxidant
Freshens breath
Suggested use
Oral.
Active Ingredients
Moringa (Moringa oleifera) leaf extract and Chlorophyll
Recommended use
Shake well before use. Mix 2 teaspoons with your favorite beverage or be daring and drink it straight from our handy measuring cap! Enjoy MorinLife twice daily to reap the benefits of Moringa and Chlorophyll.
Store in a cool, dry environment until use. Refrigerate after opening.
Consult your physician before use if you are pregnant, lactating, have a medical condition, or are taking any medication Keep out of reach of children.
Tell me more!
Moringa leaves have been studied for their high content of antioxidants, compounds capable of protecting cells from oxidative damage1. Some of these antioxidants are Vitamin C, flavonoids and phenolic compounds1, 2, 3.
Some Moringa's compounds and benefits are1,4,5:
Beta-carotene – which helps the eyes, heart and skin
Chlorogenic acid – modulates glucose levels
Vitamin C – helps the body absorb iron, create collagen and affects the immune system
Quercetin – helps to reduce blood pressure
Ever wonder how plants get their green color? Chlorophyll! This pigment helps plants absorb sunlight via photosynthesis.  Chlorophyll has been touted for improving the skin, providing a boost of energy and fresher breath6.
Shanmugavel, G, Prabakaran, K & George, B. (2018). Evaluation of phytochemical constituents of moringa oleifera (lam.) Leaves collected from puducherry region, south india. Int. J. Zool. Appl. Biosci., 3(1), 1-8.
Anwar et al 2007. Moringa oleifera: A Food Plant with Multiple Medicinal Uses. Phytother. Res. 21, 17–25.
Sravanthi et al (2014). Antioxidative Studies in Moringa oleífera. Annals of Phytomedicine 3(2): 101-105.
Mbikay, M. (2012). Therapeutic potential of Moringa oleifera leaves in chronic hyperglycemia and dyslipidemia: a review. Frontiers in pharmacology, 3, 24.
Bhandarkar, N. S., Brown, L., & Panchal, S. K. (2019). Chlorogenic acid attenuates high-carbohydrate, high-fat diet–induced cardiovascular, liver, and metabolic changes in rats. Nutrition Research, 62, 78-88.
North Carolina Department of Agriculture Consumer Services. Food and Drug Protection Divisioner Services. Food and Drug Protection Division.
These statements have not been evaluated by the food and drug administration. This product is not intended to diagnose, treat, cure or prevent any disease.
This product is not a medicine. Its consumption is the responsibility of who uses it and recommends it. Keep out of reach of children.
Medical practices, regulations and available product portfolios might differ from one country to another.
As a result, the medical information provided in the site which you are going to visit may not be appropriate for product use in your country.